General
We do not require your pet to be sedated, however if it is your preference, please consult your veterinarian for the appropriate medications.
We suggest you do not allow your pet to eat for up to four hours prior to departing for domestic flights, and up to six hours for international flights. During flight there will be no place for them to relieve themselves. It is always suggested to bring house breaking pads with you. Water is acceptable in small amounts to keep them hydrated, but make sure you take them for a walk prior to boarding the plane.
Since passengers are responsible for any damage to the aircraft by their pet, it is also best to check on their hygiene prior to boarding, such as keeping their nails clipped.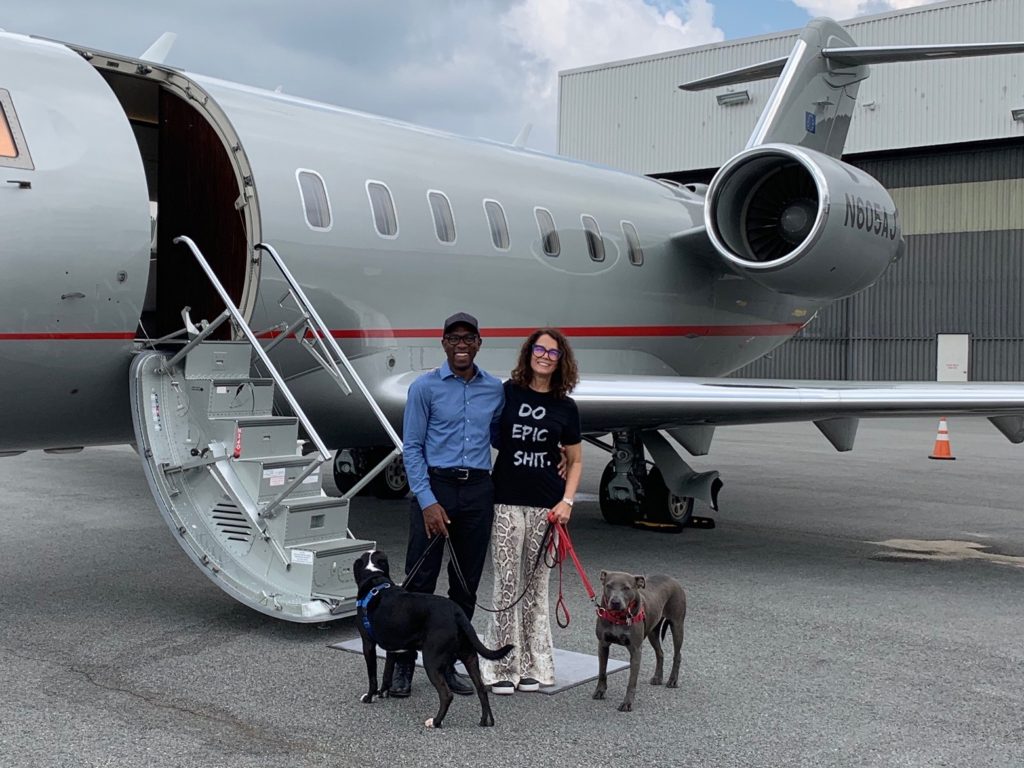 Large Pet/Zoo Animal Cargo Flights
For any family pets or exotic animals larger than a dog, we require that they are transported on a private cargo flight. Passengers do not travel on these flights, however, we will try to accommodate requests for:
Your travel times to depart and arrive at the same time as your pet/animal
Travel times in reference to the season to avoid harsh temperature extremes, however we can accommodate with climate-controlled aircraft.
Pet Carriers
Pet carriers and crates are not required for most flights, however if you are travelling international, a pet carrier may be required to enter customs or immigration. In addition, if you rather your pet travel in a pet carrier, follow these tips:
Please first verify with your air charter advisor if your pet carrier size is suitable for the aircraft. Collapsible pet crates are best suggested for storage during flight.
Have your pet sleep in a pet crate for at least 1 week before the flight so they can get used to it, and to reduce their stress during the flight.
Make sure your pet's nails have been clipped to avoid any personal damage, such as getting their nails caught in the pet carrier door.
Fit your pet with a snug collar; you do not want a collar that can get caught on something, especially not the pet crate door.
Upon arrival, open the pet carrier in a safe place and examine your pet to make sure they have not been injured during the flight due to the pet carrier.
LEARN MORE ABOUT PET FRIENDLY PRIVATE JET TRAVEL
Get A Quote Now:
PrivateJetsForPets.com Serves as an agent in obtaining air charter services for our customers. PrivateJetsForPets.com is not a direct or indirect "Air Carrier". PrivateJetsForPets.com does not own or operate any aircraft on which our customers fly. All flights arranged by PrivateJetsForPets.com are operated by FAR Part 135 or 121 air carriers or foreign equivalent ("Operators"), who shall maintain full operational control of charter flights at all times. Operators providing services must meet FAA or JAR safety requirements as well as additional safety standards established by PrivateJetsForPets.com, Inc.