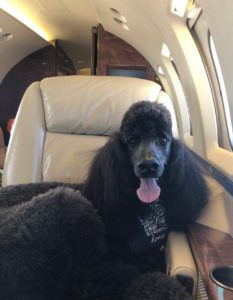 Thank you for visiting PrivateJetsForPets.com, where we are dedicated to providing safe and comfortable travel for you and your furry friends. If you have any questions or would like to book a private jet charter for you and your pet, please don't hesitate to reach out to us.
Phone: For immediate assistance, please call us at +1-888-987-5387. Our knowledgeable team is available 24/7 to answer any questions and assist with your booking.
Call Us Now: +1-888-987-JETS (5387)
Email: You can also send us an email at info@privatejetsforpets.com. Our customer service representatives will respond to your inquiry as soon as possible.
Online Form: If you prefer, you can fill out the form below and one of our representatives will get back to you shortly.
At PrivateJetsForPets.com, we understand the importance of making your pet's travel experience comfortable and stress-free. Contact us today to book your private jet charter for you and your furry friend.
PrivateJetsForPets.com Serves as an agent in obtaining air charter services for our customers. PrivateJetsForPets.com is not a direct or indirect "Air Carrier". PrivateJetsForPets.com does not own or operate any aircraft on which our customers fly. All flights arranged by PrivateJetsForPets.com are operated by FAR Part 135 or 121 air carriers or foreign equivalent ("Operators"), who shall maintain full operational control of charter flights at all times. Operators providing services must meet FAA or JAR safety requirements as well as additional safety standards established by PrivateJetsForPets.com, Inc.