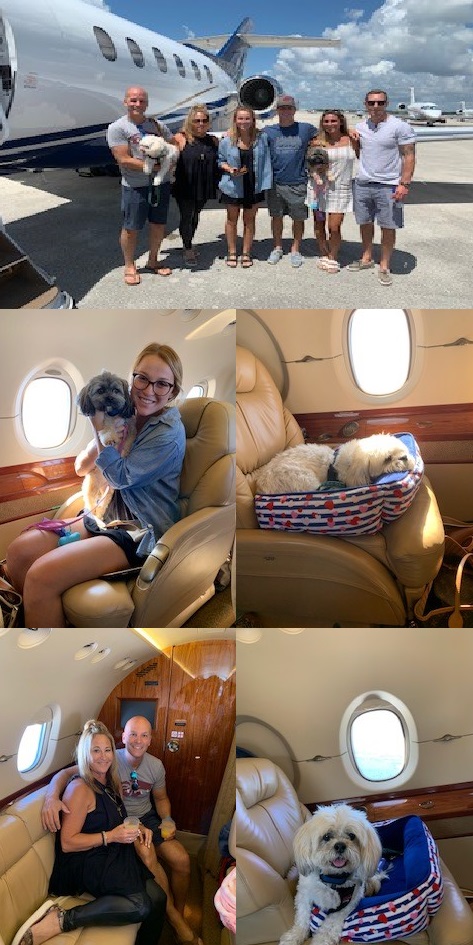 Private Jets For Pets can be arranges to all US States, islands, and over 150 different countries throughout the world. If you have the appropriate documentation and the runway is long enough(which we can tell you), we can virtually arrange your flight anywhere in the world. We can arrange departure from smaller local airports, or bigger airports, and we can assist in making your travel seamless.
We work on a global level arranging private jets for pets for vacationers who want to bring their pets along, families that are moving and need help with relocating, and show animal owners.
Some recent examples of flights that were performed for individuals:
7 Persian Show cats and two passengers from (KMMU) Morristown, New Jersey to Fort Myers, Florida. Each cat was in their small crate, each having their own seat in the plane!
1 Standard Poodle, 1 Havanese, and one passenger from (KPBI) West Palm Beach International to (MZBZ) Belize City, Belize. Both dogs were stress-free sitting in the cabin of the aircraft with bowls of water relaxing!
1 Weimaraner and two passengers relocating from (TVSV) Saint Vincent and the Grenadines to (TJSJ) San Juan, Puerto Rico!
Get A Quote Now:
PrivateJetsForPets.com Serves as an agent in obtaining air charter services for our customers. PrivateJetsForPets.com is not a direct or indirect "Air Carrier". PrivateJetsForPets.com does not own or operate any aircraft on which our customers fly. All flights arranged by PrivateJetsForPets.com are operated by FAR Part 135 or 121 air carriers or foreign equivalent ("Operators"), who shall maintain full operational control of charter flights at all times. Operators providing services must meet FAA or JAR safety requirements as well as additional safety standards established by PrivateJetsForPets.com, Inc.